Learn How to Convert Shortcut File to Original File in Pen Drive Flawlessly
USB drives are prominently utilized storage device these days. Users prefer pen drive due to its durability and portability. However, a pen drive is the best way to store any kind of data like documents, photos, videos, music and so on. There is no doubt that the pen drive is eminent in all terms but, this also consists of some negative aspects. Sometimes, when a user tries to open any file in pen drive. At that time, they find some of their files and folders become a shortcut. Here we will know how to convert shortcut file to Original file in pen drive?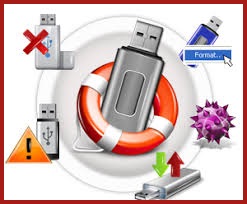 Generally, this issue occurs when the USB flash drive is highly infected by a virus. When a virus takes place into your drive so, they convert the name of all files or folders to shortcut. In these circumstances, initially, you have to utilize an effective anti-virus application. With the help of that anti-virus utility, you need to try to remove the shortcut virus properly. In case, if you still unable to view that files and folders, then you have to implement some techniques to get rid off this issue appropriately. So, in this write-up, we will be going to discuss the top methods for the same. Simply, go through the complete blog to learn how to convert shortcut file to original file in pen drive.
Possible Causes Behind Files Become Shortcut in Pen Drive Issue
There are several reasons behind this issue such as files and folders become shortcut in pen drive. A few of them we have discussed below. Let's take a look:
Due to virus, worms and malware attack
Improper transfer of data files
Sudden power failure during files transfer from pen drive
File system type not supported
Convert Shortcut Files to Original File in USB Drive Manually
Here, in this section, we are going to mention the step-by-step procedures to convert shortcut files to original files in flash drive. This free solution is obtainable in 4 ways. You can implement any method to convert shortcut files to original file in pen drive.
#1: Review Hidden Files that Open Shortcut Files
To recover the shortcut files in pen drive, you require to view the hidden files that start generating the shortcuts. To do so, follow the steps stated here:
Firstly, insert your USB flash drive
After that, choose the folder option in it.
Now, an option display to your screen i.e., Hidden Files and Folders. You have to simply click on Show Hidden Files and Folders option.
Finally, remove and select the Hide protected operating system file.
#2: Convert Shortcut Files Into Original Files By CMD Command
First of all, press Windows + R keys and then type cmd in the field.

Then input chkdsk D: /f and press Enter key (you can replace D: with the drive letter of your device as per your need)

Here, type: Y and hit on Enter to proceed ahead
Now, again add E: and press Enter key.
At last, type: attrib -h -r -s /s /d *.* and hit Enter to end up the procedure properly.
#3: Clear up Virus Utilizing Anti-Virus Program
This is the perfect approach to remove shortcut virus Pen drive. Here, follow the below-outlined steps to recover shortcut files in the USB drive:
Firstly, you have to install any trustworthy and reliable Antivirus into your system. After that, insert your virus infected USB flash drive.
Afterward, the antivirus begins the scanning procedure to scan the complete pen drive.
Then, the anti-virus will display a list of worms, Simply, remove them and proceed ahead.
Ultimately, the shortcut file will properly remove from your pen drive.


Note:-Keep one thing in mind, you should have to choose only an advanced and trusted antivirus to convert shortcut files in pen drive. Because a wrong decision can end up with the malformed pictures or file formats.
#4: Format the Drive to Clean up the Virus from USB
This is the only way to resolve the issue perfectly. But, when you format your virus infected pen drive so, you lose your entire data from the flash drive. Hence, you have to take a backup, before starts the formatting procedure. Here, to format the device, implement the following steps:
Primarily, locate the device in This PC/My Computer.
Then, opt the drive and right-click on it.
Subsequently, from the opened list, choose Format option.
Lastly, a warning message will prompt up to your screen that ALL DATA WILL BE DELETED PERMANENTLY. Here, hit on OK button and finish up the process.
Attention Please!
After performing the above-explained manual solutions, if you lose your crucial data. So, don't worry, because here we come up with an instant way to recover files from formatted pen drive. This is named as Pen Drive Recovery software and provides quick recovery of data files from deleted, formatted and corrupted pen drive. Mainly, this tool facilitates filter based advanced search option to find components within recovery outcome. USB drive recovery utility supports recovery from all types and brands of pen drives. It also compatible with all versions of Window OS. Download the tool on any version of Windows. Moreover, you can utilize this amazing data recovery application via visiting the official website.
Final Verdict
In this post, we emphasized the techniques to convert shortcut files to original file in pen drive. Sometimes, users faced this issue such as their files and folders become shortcut in pen drive, hard drive, external hard disk etc. At times, they require an ultimate solution to resolve this issue instantly. So, in the above section, we have explained the multiple ways to files turned to shortcut error. But, using the manual method create some new problems like this may lead to data loss issue. Thus, it is better to go with the flash drive recovery software to recover shortcut files in the USB drive.